We left White Pass with a 20% chance of rain in the forecast. In California, this usually means you'll still see the sun at some point. In Washington, a 20% chance of rain means 100% cloud cover with off and on rain all day.
We planned to reach Snoqualmie Pass in four days. It looked like it would be four days of rainy walking.
On the first day out from White Pass, we made it to Anderson Lake. Shortly after the tent was pitched, the clouds let loose a heavy rain that lasted through the night.
In the morning the rain became lighter, but staying dry was a challenge. The vegetation brushing against or legs and shoes was sopping wet and the slightest breeze made the trees drip. We passed the entrance to Mt Rainer National Park. We were probably supposed to see the mountain itself at some point, but we did not. Instead, we saw lots of wildflowers, mushrooms, alpine lakes and wildlife. We spotted a large number of mountain goats, munching grass in the distance. Later in the day, we saw a few of them right alongside the trail. They were quite close, and I was so excited to see goats, I loudly exclaimed: "Look! A goat!" This scared them and they immediately bolted down the hill before either one of us got a photo.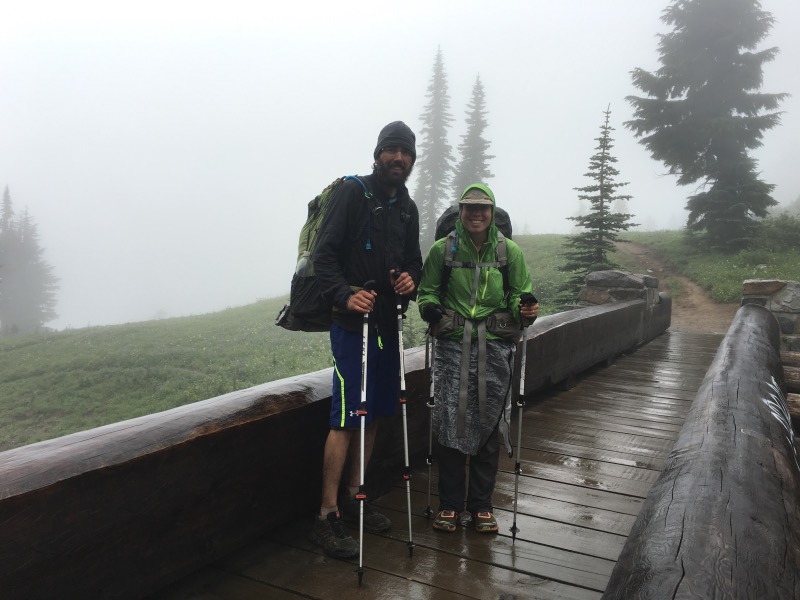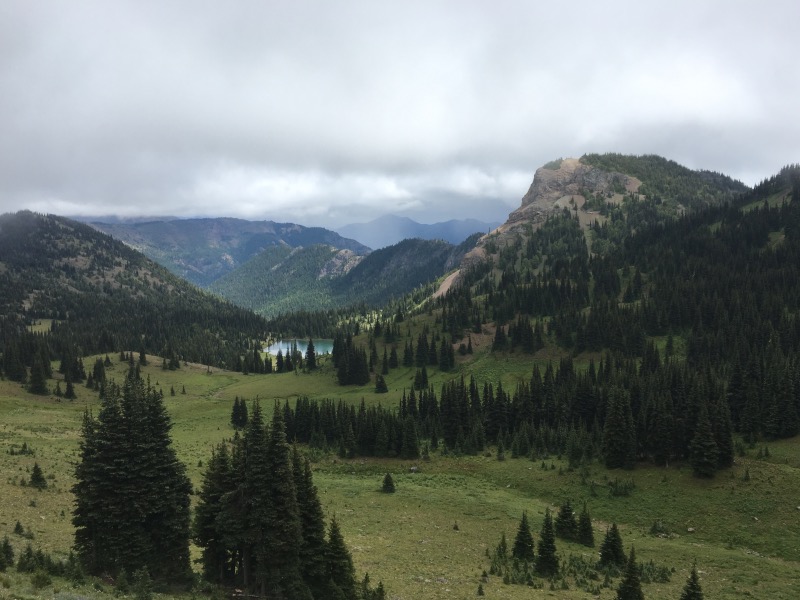 We pushed ourselves 28 miles to reach the Urich shelter. We had heard that this single room cabin was mouse-infested, but we knew it had a wood burning stove and we really wanted to get warm and dry. When we were about five miles from the shelter, a southbound hiker informed us that an entire troop of Boy Scouts was staying there for the night. We decided this was a good thing – they would probably have a fire going – so we continued on. We reached the shelter at just the right time: the boys had finished dinner and we were offered leftover taco fillings (BYO tortilla). We each made a quesadilla on the wood burning stove. After warming up, we caught a break in the rain and set up the tent. We had a second dinner in the tent, then fell asleep to the sound of giant drops raining down from the trees.
From the Urich shelter we walked in fog, through mostly wooded terrain. In the afternoon, we found huge, delicious huckleberries. We reached our planned camp location somewhat late in the evening – too many stops for huckleberry picking. A tent was already set up in the one small site! We continued a half mile further and set up camp on an old road cut under some high voltage power lines. We fell asleep to the sound of electricity crackling above us.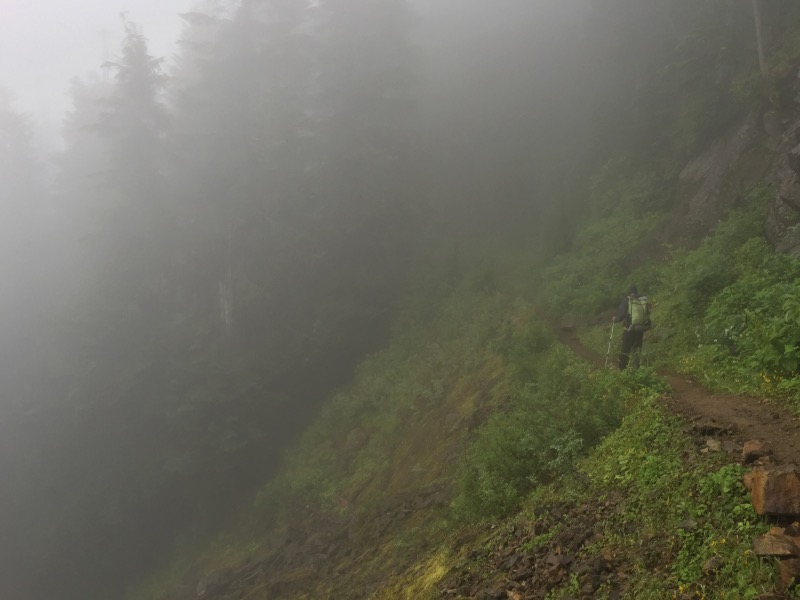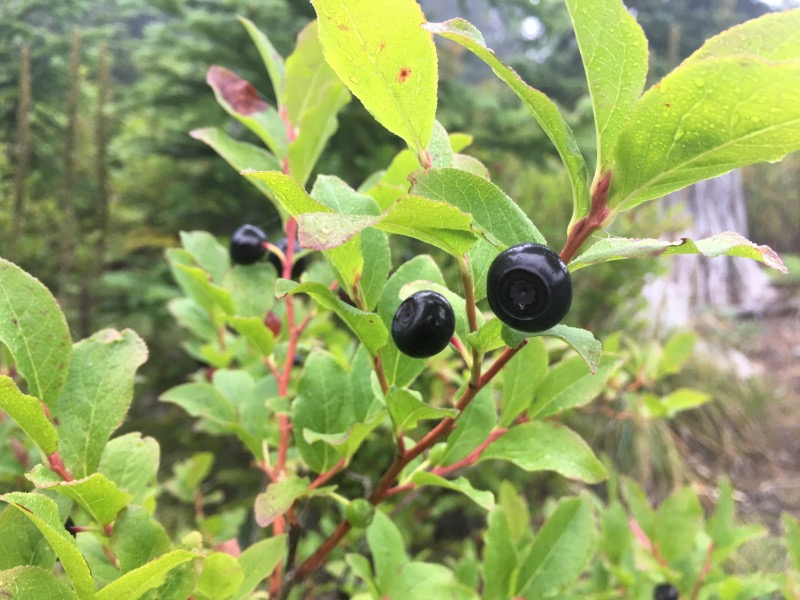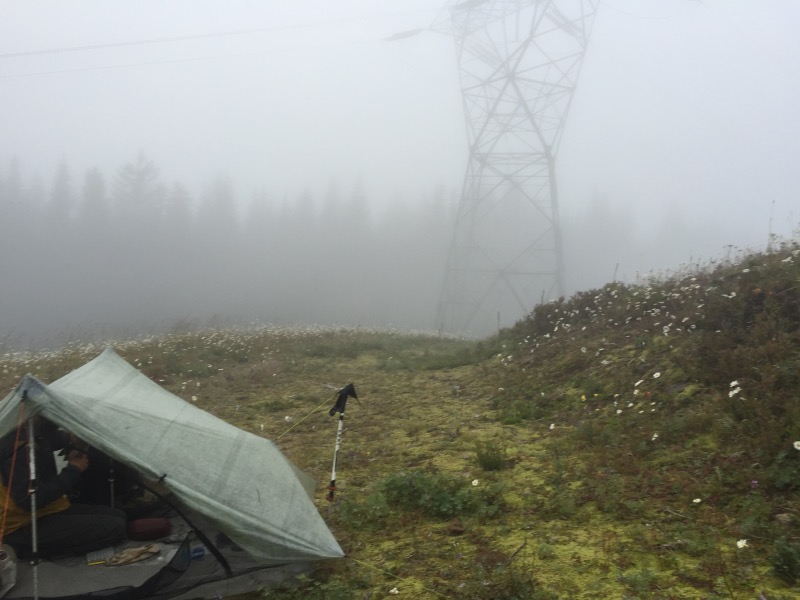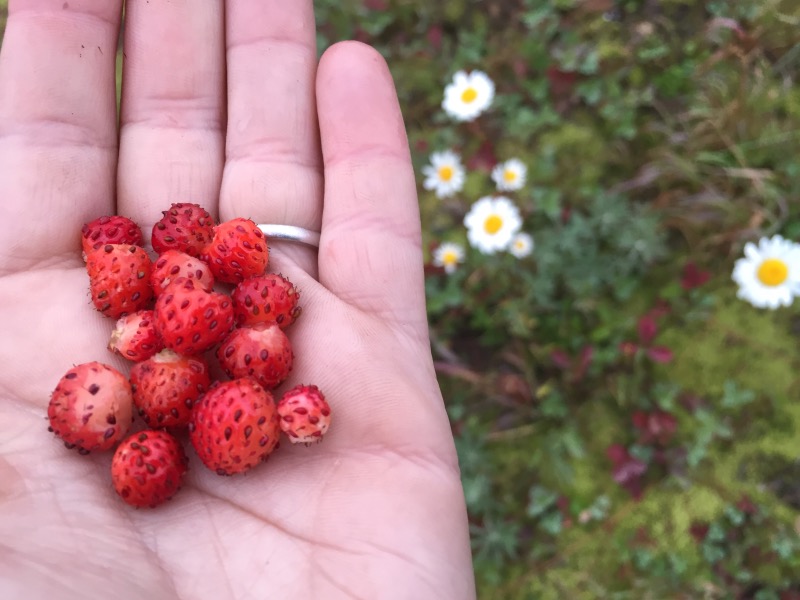 The weather finally started to clear as we approached Snoqualmie Pass. The trail was still mostly forested. We were excited to reach the pass where we were able to dry out all our gear, eat good food and pick up our resupply box.