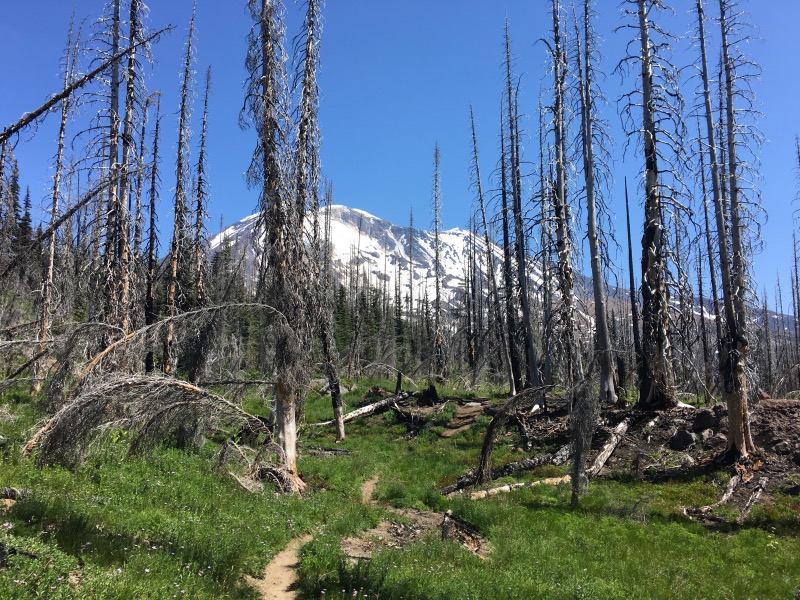 It took a few phone calls to find a ride from Trout Lake back to the trailhead. The town has a trail angel list: names and phone numbers of people willing to shuttle hikers back and forth. The first few people we called were busy preparing for the upcoming town fair, but eventually we got ahold of Gary, who met us a few minutes later at the grocery store.
When we reached the trailhead, five other hikers (Nemo, Badger, Man in Black, Fly Fish and a woman whose name I didn't catch) were coming off the trail and looking for a ride into town. We met Badger on Day 2 of our hike, and hadn't seen her since! We exchanged hellos as everyone piled into Gary's truck. It never ceases to amaze us that there are so many generous people in the world. Gary must have spent half his day shuttling hikers back and forth.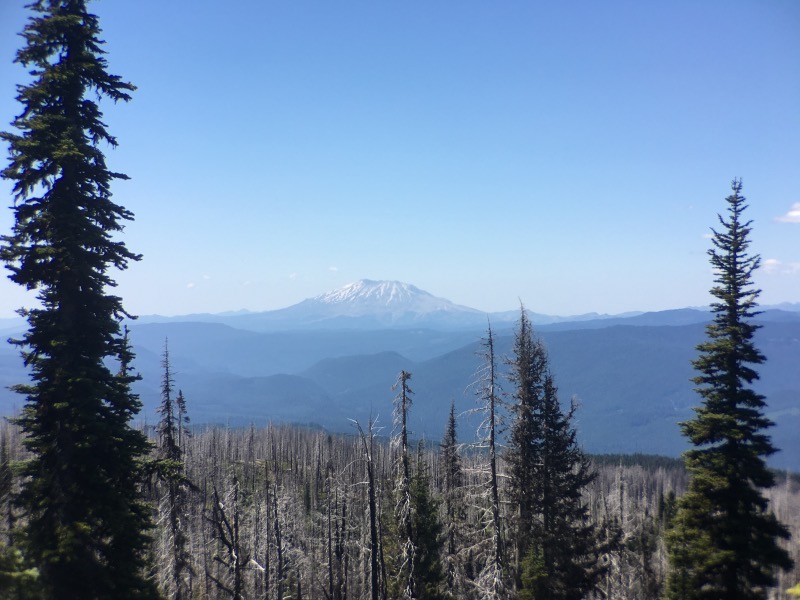 The trail climbed through a burn area below Mount Adams. We had great views of the snowy peak as we traversed around it.
We hiked 20 or so miles to Lava Spring. A lot of other tents were already set up there, but we found a spot. It's August and lots of weekend and section hikers are out on the trail. We also hit a big wave of southbound PCT hikers in this section. Popular camping areas (especially at water sources) have been a little crowded.
The following two days took us through the Goat Rocks Wilderness. The scenery and the weather were both amazing!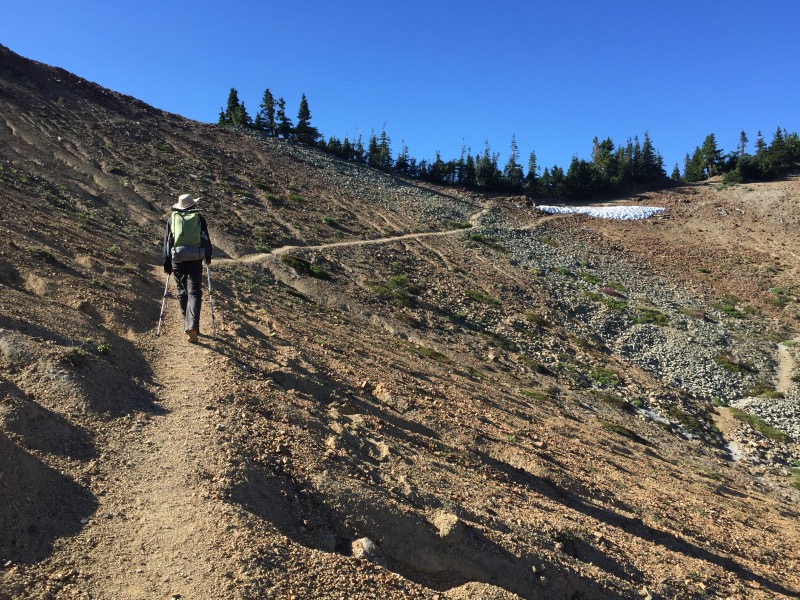 We climbed up and over Cispus Pass (6474′) and took the Old Snowy PCT Alternate across a section of trail called Knife Edge. Nemo, who didn't stay in Trout Lake for very long, caught up to us and we hiked from Old Snowy to White Pass together. Rob and I have mostly run out of things to talk about; it was nice to hike with somebody else for a day. We spent a lot of time talking about food.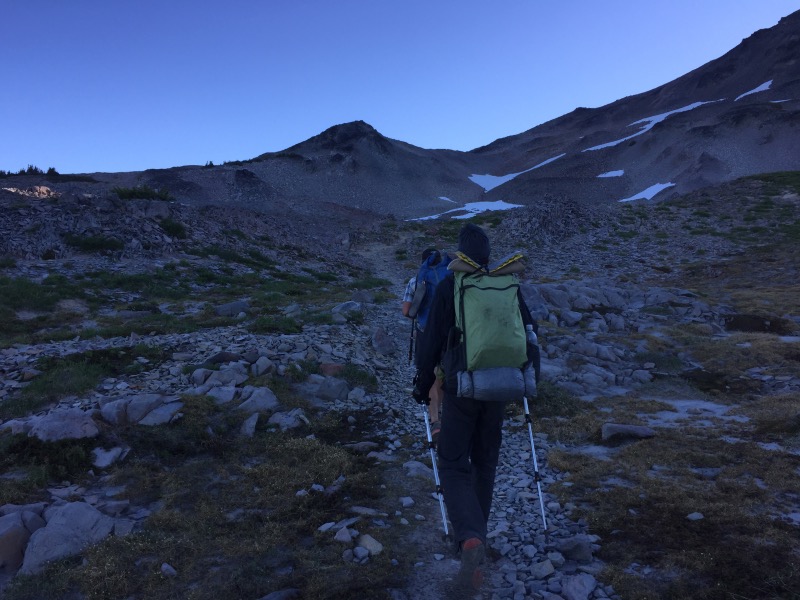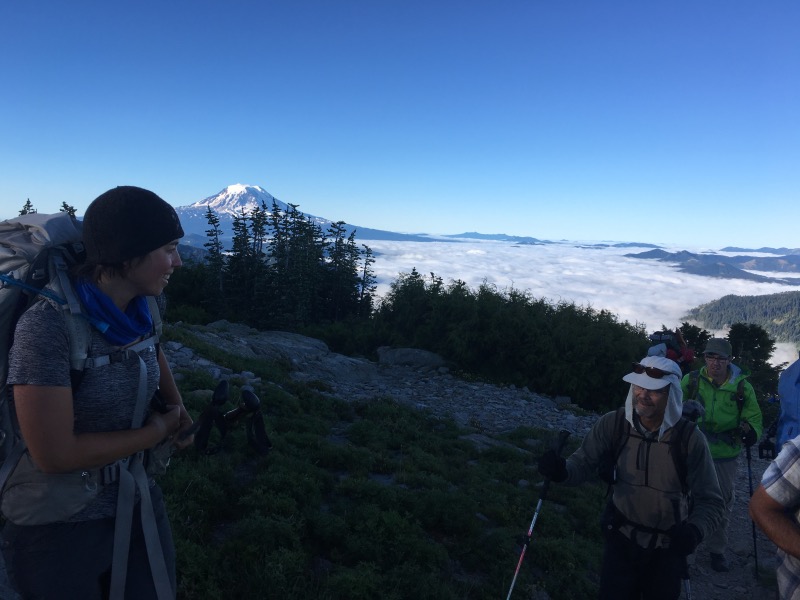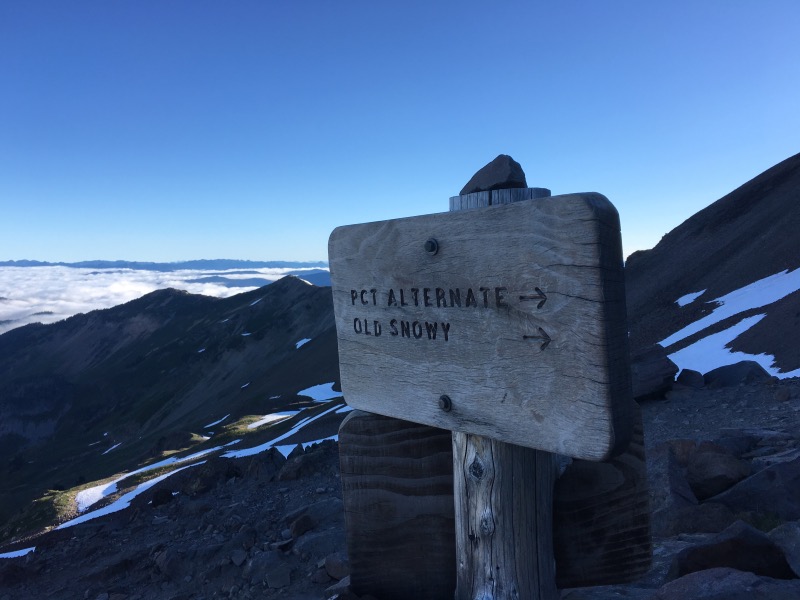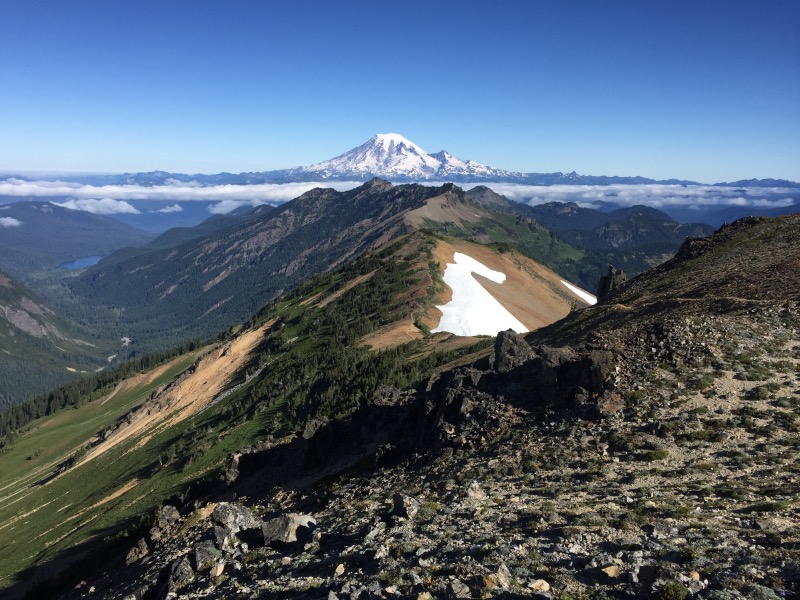 Somewhere near Shoe Lake, we encountered a group of guys riding mules up the narrow trail. We stepped off the trail, out of their way. They stopped and asked us if we had come from Mexico. As we were chatting, Nemo noticed they had beer! In trail lingo, to yogi means to cleverly finagle unsuspecting strangers into offering you food, rides or other assistance without actually asking. Nemo is apparently very good at this. Before we knew it, Rob was approaching a skittish mule and pulling cold beers out of the cooler it was packing.
We reached the trailhead at White Pass sometime around 4:30pm. As soon as we got there, a Belgian man approached us and asked us if we were hiking the PCT. As we talked, we discovered that he was there as part of the support team for his son who is going for a speed record on the trail. The current record is somewhere around 53 days (at an average pace of about 45 miles per day). He was expecting his son to arrive any minute. We thought about sticking around to meet the guy, but our resupply box at the nearby Kracker Barrel convenience store was calling. We walked the last half mile along the highway to the ski resort, picked up our resupply and checked in to the hiker friendly Village Inn for the night.