After less than 24 hours in Tehachapi, we returned to the trail at PCT Mile 558. We spent the next 6 or 7 miles walking through another wind farm. Wind turbines are pretty cool, but after three days of them, we were both ready for a change in scenery.
Mile 567: Rob deemed this to be the worst mile of the PCT… so far. There basically is no trail here. Last October, a major mudslide engulfed Highway 58. I knew about this because it was all over the news, but I did not know that a mile of the PCT was also obliterated. It wasn't quite the change in scenery that we had hoped for, but it was fascinating to see the vast quantities of dried mud that remain on the side of the highway.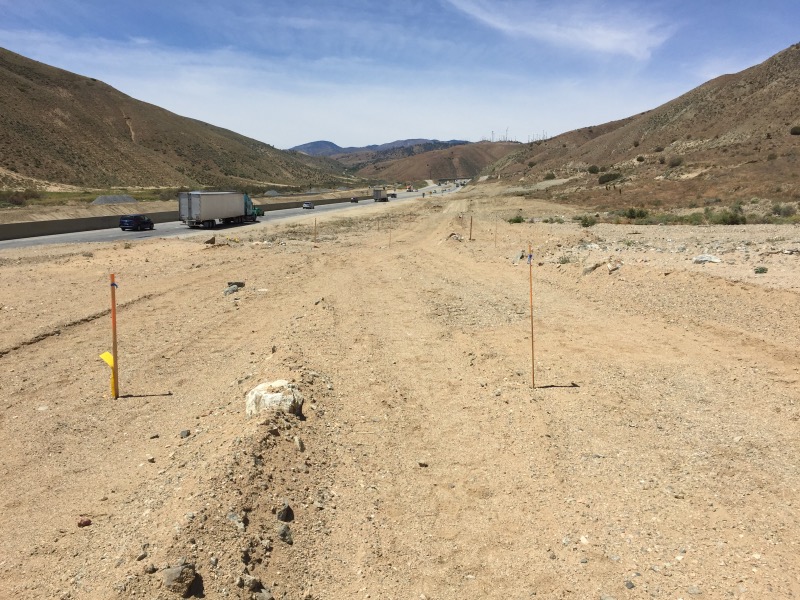 Mile 574: We set up camp amongst conifers and wildflowers after climbing 2000-ft up and away from Highway 58.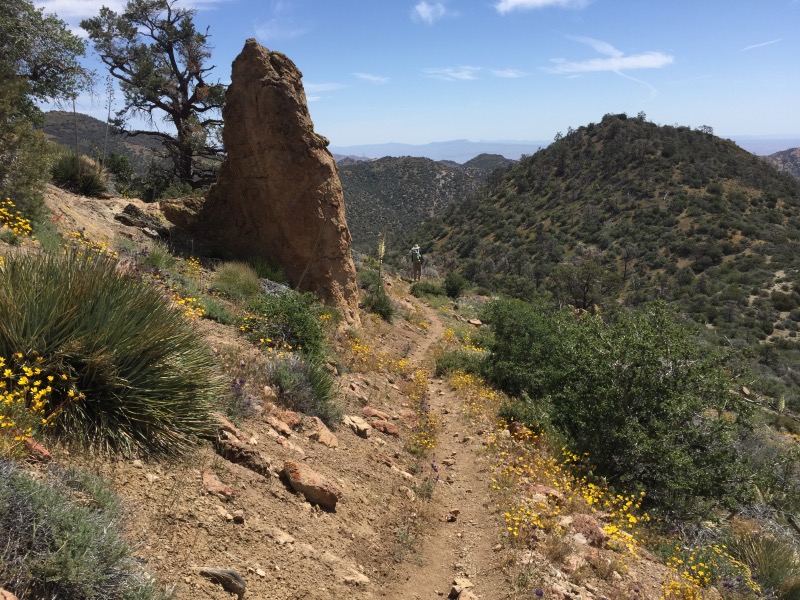 Mile 583: We reached Golden Oaks Spring around lunchtime. Lunch consisted of chocolate peanut butter (yes, they actually make this stuff!) and a sliced apple, all wrapped in a tortilla. It was definitely worth carrying that apple all the way from Tehachapi.
Mile 593: Camped near a hiker named Prince. He carries a ukulele and plays it in the evenings. It was nice to fall asleep to music.
Mile 600: There should have been a mile marker here somewhere, but it seems we walked past it without noticing.
Mile 605: Spent part of the day walking through Sequoia National Forest in the Piute Mountains, a subrange of the Sierra. After days of cow patties and wind turbines, it was nice being back in a real forest. We are getting closer to the Sierra – less than 100 miles to Kennedy Meadows.
Mile 609: We camped at the last water source for nearly 30 miles. Three other hikers (including Prince) showed up after we set up our tent. We again fell asleep to the sounds of a ukulele.
Mile 612: We departed the forest and were soon back in the land of Joshua trees. It looked like it might rain.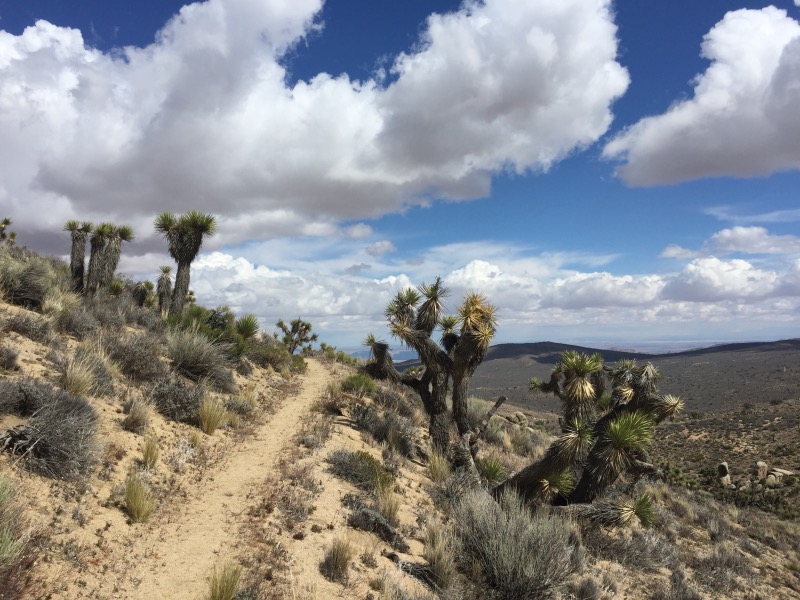 Mile 621: It now definitely looked like it would rain. I felt one drop, panicked, and put on all my rain gear. The clouds chased us all day, but other than just a couple drops, we stayed dry.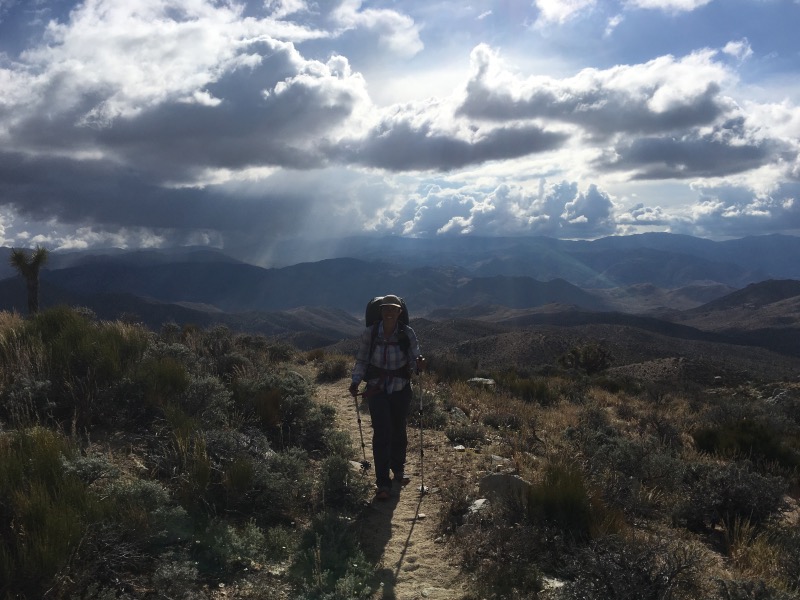 Mile 628: The wind really picked up. We found a somewhat sheltered campsite next to some Joshua trees, overlooking the desert valley several thousand feet below us. Fell asleep to howling wind and flashes of lightning in the distance.
Mile 630.8: Reached a water cache at Bird Spring Pass. We have not relied on water caches for our hike, but we weren't eager to trek nearly a mile off the trail in search of the next spring. We filled up a couple 1-liter bottles.
Mile 637: Rain! For real this time. It hailed a little, but mostly just rained steadily for the next 8 miles. We were at elevations between 6000 and 7000 feet, so it was also very cold.
Mile 645.5: Stopped walking because we got tired of the rain and cold. Camped at around 6800-ft. Woke up in a cloud the next morning. We packed up the wet tent and hit the trail.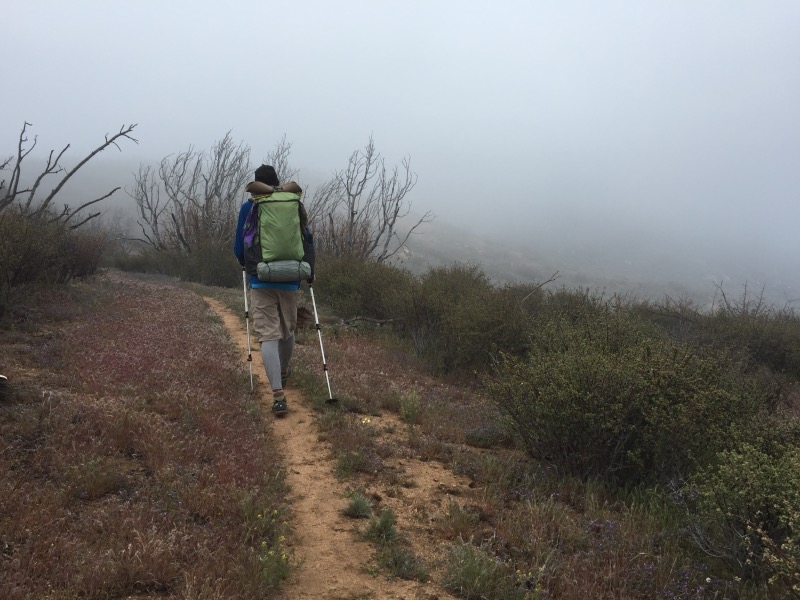 Mile 652: Made it to Walker Pass where the sun was once again shining! Our resupply point, the town of Lake Isabella, is 37 miles west of the PCT on Highway 178. It took us three separate hitchhikes to get to town. At least we were able to get deli sandwiches in the middle of this three hour journey. The other hikers we talked to had far less trouble, so it seems we just had bad luck. Fortunately there is a bus back to Walker Pass tomorrow! Unfortunately it leaves at 5:15 in the morning.