The PCT feels like the PCT again. We spent the last few days at higher elevations, traversing along ridge tops at 6000′ to 7000′ elevation. Poison oak and face gnats have been replaced with conifers and sweeping views. The mosquitoes are still around though. They don't bother us while hiking, but they swarm as soon as we stop to set up camp.
After leaving Mount Shasta, we walked through parts of the Castle Crags Wilderness, the Trinity Alps Wilderness and the Russian Wilderness – all very scenic parts of California that we had never visited before.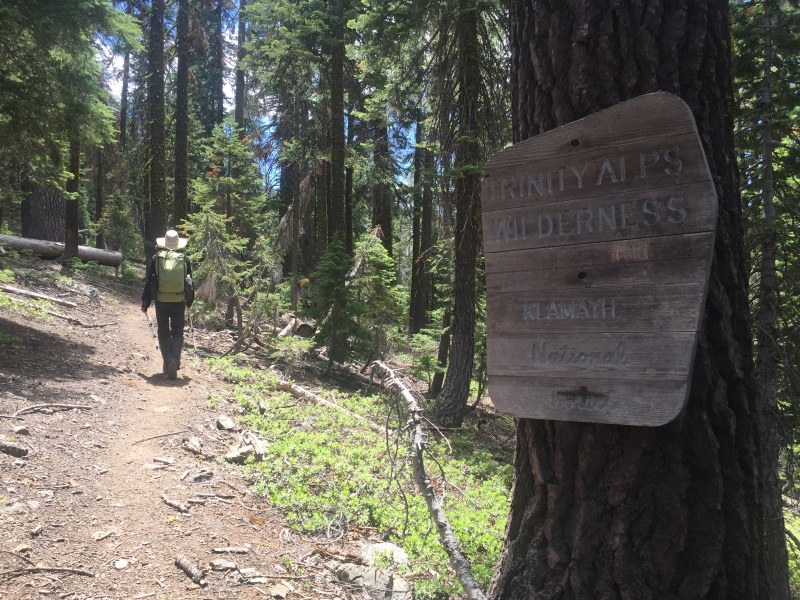 Today (Day 99), an unseasonably cold and rainy storm rolled in. After nothing but heat and sunshine for several weeks, I thought I would welcome the change. I did not. It was windy, cold and wet. Some parts of the trail were slightly overgrown and every time we brushed up against the vegetation, we were freshly showered in the cold water that accumulated on each leaf.
Our plan was to stay in Etna, but to get there we needed to hike 26 miles and catch a ride on a not-so-frequently travelled road. We reached the road by 5:30pm. It took a while, but the first car to come by was driven by a seasonal Forest Service firefighter from West Covina. He was headed into town to buy food. The wind was howling at Etna Summit – I was really happy that he stopped and gave us a lift.
Lodging in all of Etna was fully booked, but we were lucky enough to get a couple of spots in the Hiker Hut at the Alderbrook Manor. The Alderbrook is a bed and breakfast, but they are very hiker friendly and have a little hut with bunk beds in the backyard. They also have showers, laundry and bicycles that we could ride the half mile to the grocery store!