Kennedy Meadows Resort was a great place to relax. With no cell service or wifi, we spent most of the day sitting on the front porch of our little cabin, watching people come and go, and consuming large quantities of soft serve ice cream from the resort's store.
Bright and early on Day 71, we caught a ride back up to Sonora Pass. As we climbed up and away from the highway, we met another hiker who, of all things, was a retired state engineer. His phone had gotten wet during a creek crossing and no longer worked. Without the GPS, he was losing the trail under the snow. He ended up hiking with us for most of the day.
This section was so much easier than the trail south of Sonora Pass; we made it 20 miles before deciding to set up camp. Rob picked maybe the worst possible campsite. It was up on a ridge and it looked like a great site to me. We walked over and started setting up the tent. I looked around for our nearest water source and spotted a nice creek with a huge black bear standing next to it. No big deal – bears usually wander off after some time. Also, we had seen a baby bear scrambling up a tree a few days earlier. Bear cubs with no mom in sight are far more terrifying. In the meantime, the wind started gusting like crazy. We had the tent about halfway set up and we struggled trying to stake it into rock hard ground. Each gust either flattened the tent or turned it into a sail. We wrestled with it for a few more minutes before giving up. I wadded it up and shoved it in my pack. Rob suggested we walk down to the creek to find protection from the wind. By now the bear had settled in and was laying in the manzanita, watching us. We turned the other way and headed another mile and a half down the trail before finally setting up camp.
We hiked close to 20 miles per day over the next couple of days. It was so nice to be on mostly snow free trail with no major creek crossings!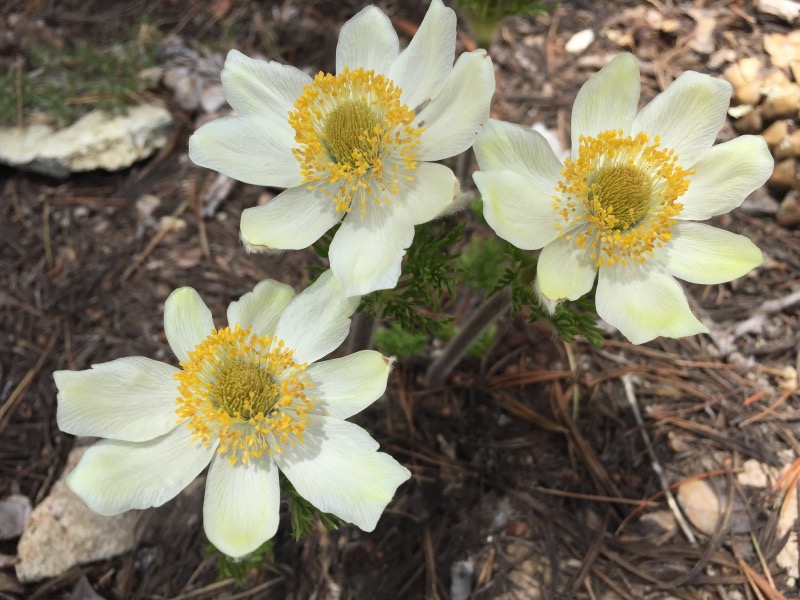 Day 73 brought us a pretty major thunderstorm. We knew rain was in the forecast, but didn't think much of it. As we neared Highway 88, all I was thinking about was the burger at the Kirkwood Inn and Saloon.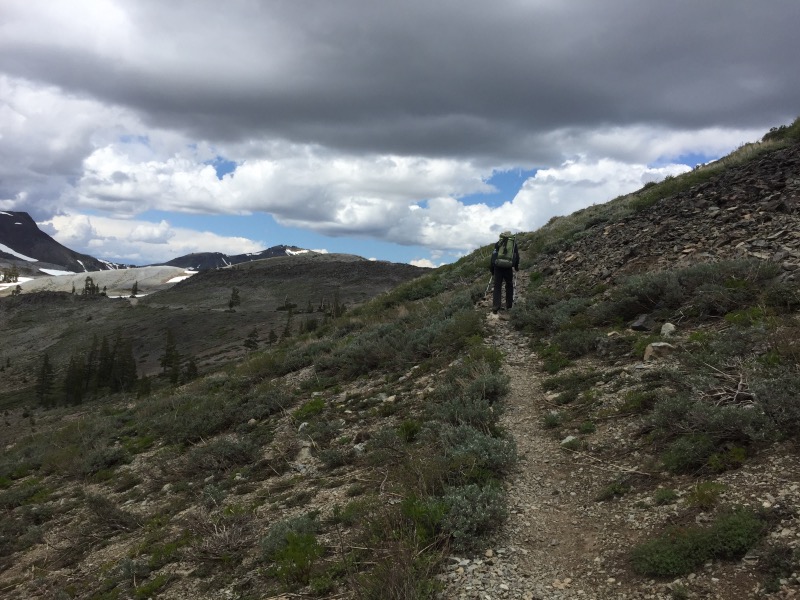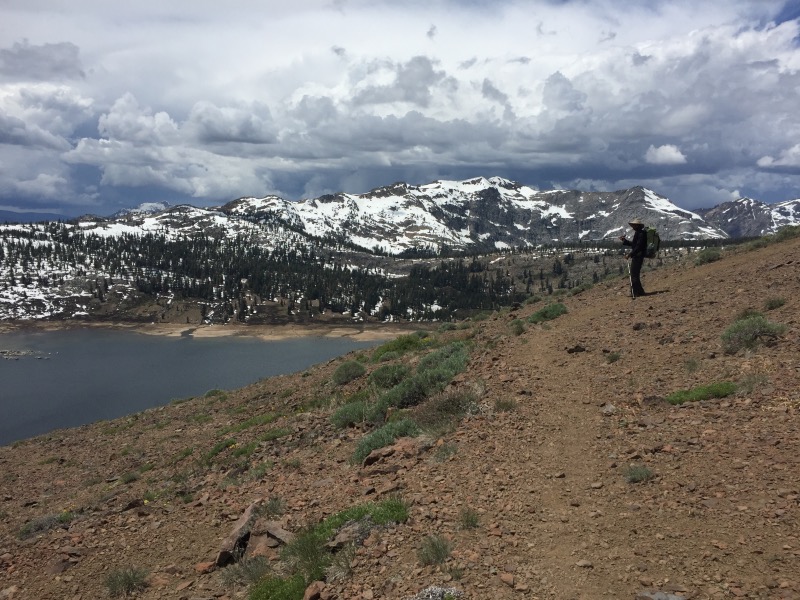 Out of nowhere, the clouds stacked up and we started hearing thunder. Rob checked the map and noticed the trail was about to climb up an exposed ridge. This seemed like a bad idea. There was a nearby dirt road heading straight down to the highway. We took the road.
Lucky for us we ran into a couple guys who had been out messing around with snowskates. They were just loading up their truck and offered us some cold beers! After finishing the beers, we headed down to the highway where it suddenly started pouring. Bright flashes of lighting lit up the sky. We walked a half mile up the road to a turnout where we could try to hitch a ride. We were wet and very cold. After several cars zoomed past us, a guy who hiked the PCT in 2009 pulled over. He took us straight to the Kirkwood Inn and insisted on giving us $20 to buy burgers. This blew us away. That's how trail magic seems to work.
As we sat in the restaurant, we talked to others around us. Seems like everyone got caught off guard by the storm. One hiker had even taken shelter in the little building at the top of the ski lift on Thunder Mountain. The sheriff and several Kirkwood employees had been involved with that situation. Everyone cheered when she walked in the door.
The storm has mostly cleared out now, and the next few days look like they'll be pretty nice. Onwards!