We left Hiker Heaven on foot and were immediately offered a ride down the road into town. We ate an incredibly delicious and filling breakfast at the Sweetwater Café (Agua Dulce is Spanish for sweet water). After breakfast we powered down the road and back onto the trail. By midday, we had reached Bear Spring. We took our time hiking a few more miles and finished the day around 3:30pm, setting up camp next to some high voltage lines.
The wind whirred through the steel tower while the electricity made a steady buzz and crackle noise. I decided to check the weather on my phone and saw that the growing afternoon clouds indeed had a chance of rain, but to my surprise also a chance of thunderstorms. We spent some time debating whether or not camping near the high voltage lines would be safe in a thunderstorm. (They are grounded and also tall, so our tent shouldn't take a direct hit.) Ultimately, we were too lazy to move. When the thunderstorm did come, it stayed higher up the ridge and well away from us.
The next morning we woke up and hiked 10 miles to San Francisquito Canyon Road. It felt like a really long walk – you could see miles of trail contouring around the hillside ahead of us.
The trail north of San Francisquito Canyon is closed to thruhikers due to the 2013 Powerhouse Fire. We stood at the road and I checked my phone for directions to Casa De Luna – home of trail angels Terrie and Joe Anderson. In the two minutes we stood roadside, not one but two cars pulled over to offer us a ride down the hill to Green Valley. Easiest hitch ever.
Upon arriving at Casa de Luna, the first thing everyone does is put on a Hawaiian shirt. This helps you relax. We set up our tent in the backyard manzanita forest, had some beer, and hung out with other hikers. Later Terrie made taco salad, which was wonderful. In the morning, Joe made pancakes for everyone and Terrie shuttled us back to the trail. The great thing about these trail angel houses isn't just the generosity of the hosts. These stops allow us to meet and talk to the other hikers that we might not otherwise get to know. You could be hiking just a few hours ahead of or behind somebody and not see them for days.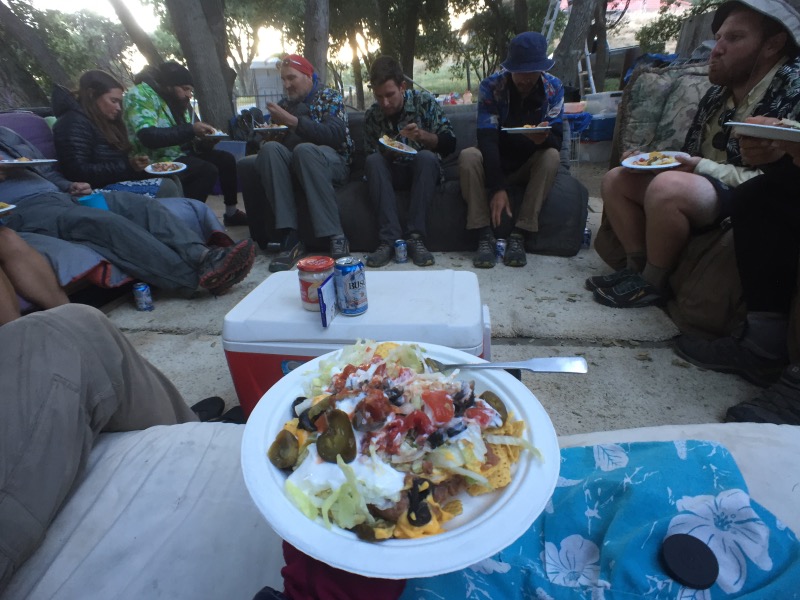 Back on the PCT we walked about 15 miles, mostly through a nice green oak forest with a carpet of miner's lettuce. We camped on the ridge just before the trail drops into Antelope Valley.
We woke up to a cold wind and some light drizzle. We packed up and got moving to stay warm. By lunch time we arrived at Hikertown, at the crossing of Highway 138. Hikertown is kind of an odd place. We relaxed with a few other hikers in the lounge for about 45 minutes and then filled up on water and returned to the trail.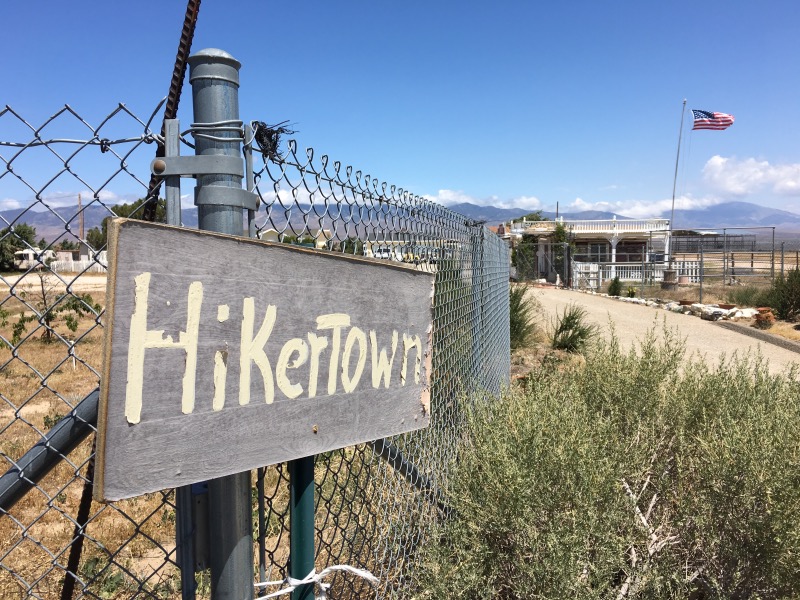 The hike through Antelope Valley is long and tedious and almost all along aqueducts – an open one, a pipe one, and a covered concrete road-like one.
At some point in the afternoon, a car full of hikers came down the road. They stopped and gave us beer, Gatorade and croissants with American cheese! One of the hikers, Adventure Chicken, had rented the car after completing his 700-mile section hike through the desert. He wanted to provide a little trail magic before flying back to Germany. We continued on with smiles on our faces for several more hours. When we got tired of walking after a 22 mile day, we collapsed in a Joshua Tree thicket.