The PCT follows roads for the 6.4 miles from Grider Creek Campground to the town of Seiad Valley. We heard that the trail was originally meant to cross the Klamath River on a pedestrian bridge, but as costs skyrocketed, the planners abandoned that idea and simply routed the trail along Highway 96.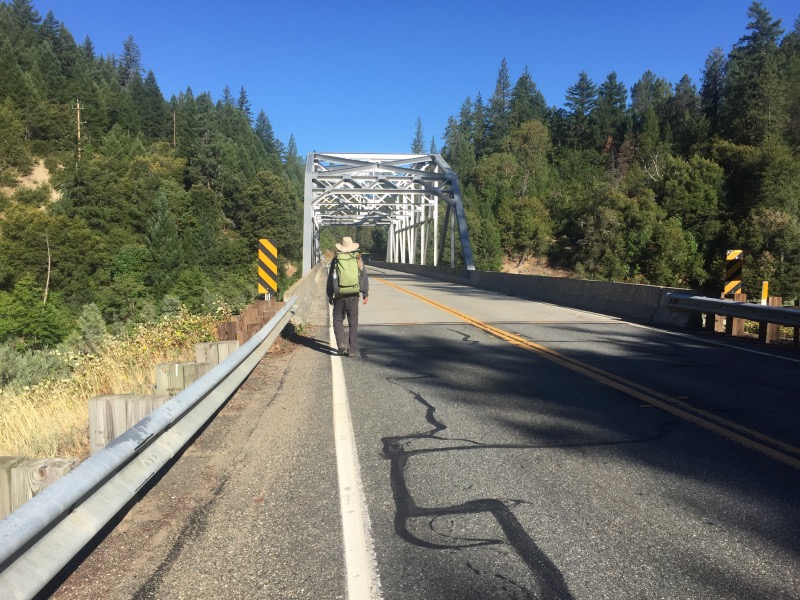 Seiad Valley is a tiny town with a general store and the Seiad Cafe which is famous for the Pancake Challenge. If you can eat 5 humongous pancakes in less than two hours, they're free! The family next to us ordered one, just so they could see the size of the pancakes.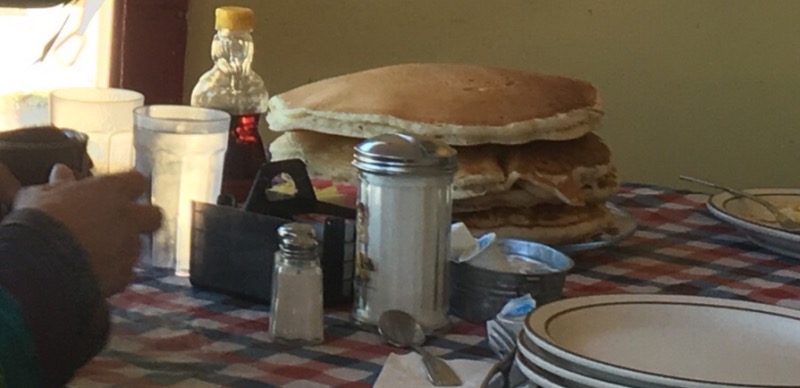 We chatted with them about hiking the PCT – the dad and daughter are section hiking and mom is their trail support. They finished only one or two of the pancakes, then shared the rest with a family of British thru-hikers. They left before us and paid for our breakfast on the way out – a really nice surprise!
We bought some snacks at the Seiad Valley store, signed the register, and spent a few minutes talking with the owner. He invented the Pancake Challenge. He mentioned that about 20 people have successfully completed it. Most of them were hikers.
After our stop in Seiad Valley, we began the long 4000+ foot climb back up to the "crest" in the Klamath National Forest.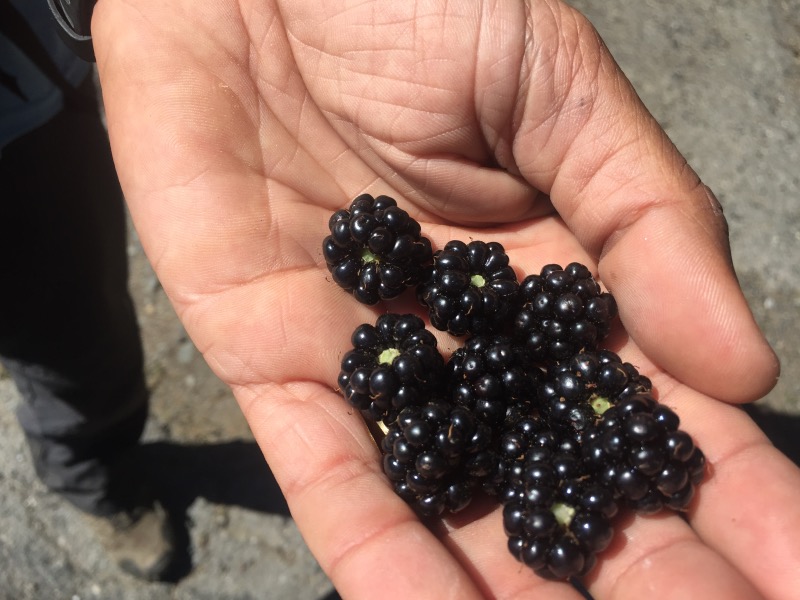 We walked until sunset and camped somewhere up on the ridge with most of the climbing behind us.
On Day 103 we made it to Oregon! A writer named Ed had set up the "Pinnacle Bar and Grill" at the first road crossing after the state line. He's writing a book about the PCT, and we initially met him at Kennedy Meadows. We got there at the same time as another hiker named Homestretch. Ed made chili dogs for the three of us and offered us lots of fresh fruit, chips and cold drinks. It was awesome!! We left with an extra orange and a can of PBR, and hiked another 10 miles to PCT Mile 1700 where we set up camp.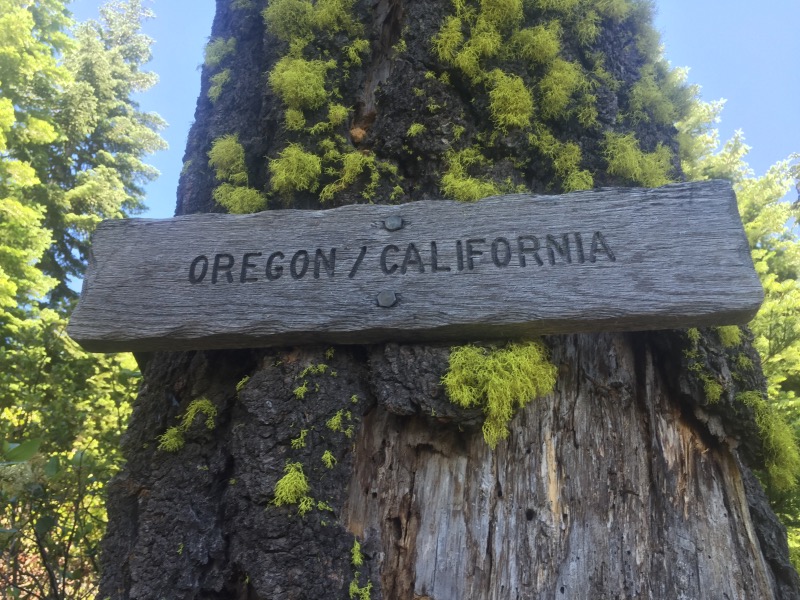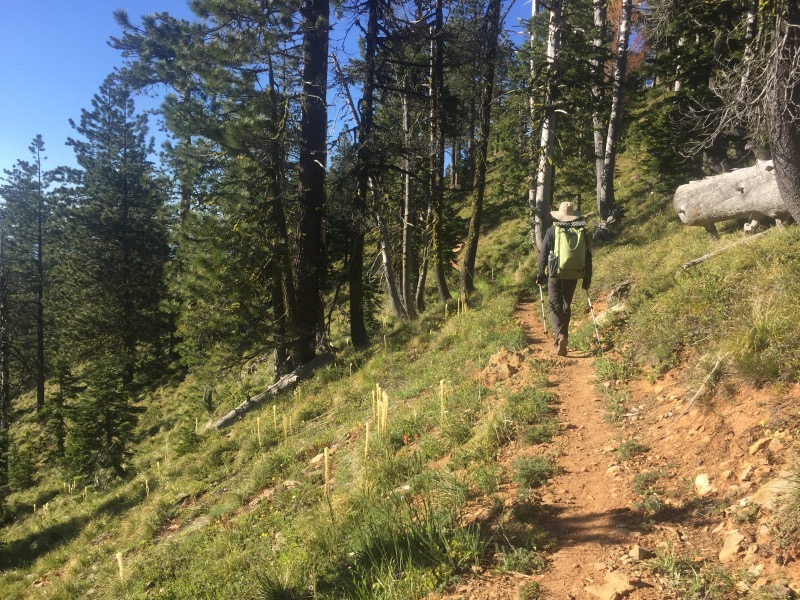 As we were going to bed, two hikers showed up at our campsite. It was Thor (who we had never met before) and Sweet Virginia! They had just hiked about 40 miles, which is insane and impressive.
The following morning (Day 104) we hiked with Sweet Virginia for a bit. Talking to somebody else made the miles fly by. Somewhere around Mile 1706, we came upon a couple of ice chests filled with sodas! It was only 7:30 in the morning, but we each had a breakfast soda. So far, Oregon has a lot of trail magic!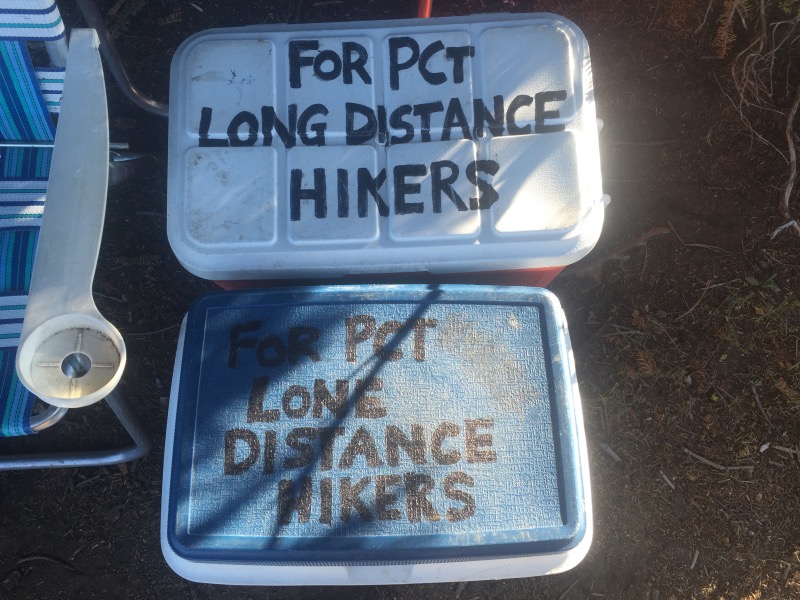 We knocked out the 16 miles to Callahan's Lodge before noon! We ate lunch at the lodge before heading in to Ashland for resupplying.