Day 47: We saw other people today! It rained and hailed/snowed off and on all night, but the sky was relatively clear when we woke up, so we packed up and hiked toward Crabtree Meadows.
As we got there, Sweet Virginia and Well-Said came down the trail going the opposite way. We first met them back in Acton (Mile 444) and have been running into them ever since. They were backtracking to Cottonwood Pass so they could get to Lone Pine. The fresh snow on Mount Whitney had turned them around. We traded trail info and discussed the weather.
We continued past Crabtree Meadows and were soon on the John Muir Trail. We had to ford Wallace Creek (easy) and Wright Creek (a little more difficult, shoes had to come off).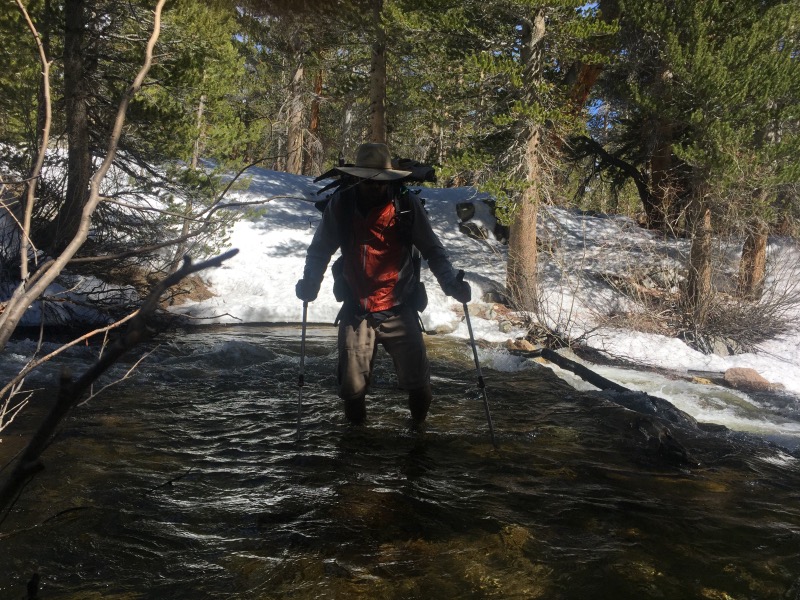 We made it to the campsite at Tyndall Frog Ponds. It's probably a great spot in the summer, but it was tricky finding a good tent site amongst all the snow drifts. We ended up camping about five feet from the trail itself, but nobody came through the entire time we were there.
Day 48: We made it over Forester Pass!!! At just over 13,000-ft, it is the high point of the Pacific Crest Trail.
Rob's watch read 27 degrees when we got up this morning. I hate cold. Nevertheless, we packed up and were soon ascending a gentle slope alongside Tyndall Creek. I was not looking forward to fording another icy creek, but luckily there was a snow bridge!
We could see Forester Pass in the distance, but it took us nearly three hours to reach the base. We put away our trekking poles and got out the ice axes and crampons. It was a difficult and somewhat exposed climb, but after an hour and a half, we were at the top!
The north side of the pass was posthole hell. We both sank into the snow to nearly waist level, multiple times. After making it down the first (steepest) thousand feet, we switched to snowshoes for the rest of the descent.